À la une
Jeffrey Dean Morgan dans un thriller surnaturel
5 mars 2013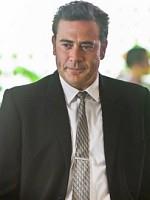 L'acteur que l'on a surtout connu pour ses rôles dans Watchmen et The Losers, Jeffrey Dean Morgan, rejoint la distribution de Solace.
The Hollywood Reporter rapporte qu'il donnera alors la réplique à Anthony Hopkins et Colin Farrell.
Solace est un thriller surnaturel où un docteur clairvoyant (Hopkins) sera embauché par la police afin d'aider à coincer un tueur en série. Morgan, quant à lui, sera un agent du FBI qui travaillera avec le clairvoyant.
En attendant, Jeffrey Dean Morgan ne chôme pas. Il attend une date de sortie pour le thriller The Adventures of Beatle et tournera sous peu le drame The Devil and the Deep Blue Sea avec Chloë Grace Moretz et Jessica Biel.
Récemment, nous avons pu voir l'acteur dans la série Magic City et dans les films Red Dawn et The Possession.
- BUM interactif