Fiche du Film
Ghost Rider : Esprit de vengeance
Ghost Rider: Spirit of Vengeance
Date de Sortie:
vendredi 17 février 2012
Genre:
Action
Réalisateur:
Neveldine/Taylor
Producteur:
Ashok Amritraj, Avi Arad, Michael De Luca, Steven Paul
Scénario:
Scott M. Gimple, Seth Hoffman, David S. Goyer
Studio:
Columbia Pictures
Durée:
96 min.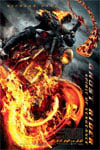 Résumé :
Johnny Blaze (Nicolas Cage), still struggling with the curse of serving as the devil's bounty hunter, is pulled out of hiding by a secret sect of the church. They've recruited him to help save a young boy (Fergus Riordan) from falling prey to the devil (Ciaran Hinds). The only way for Johnny to save the child, and maybe even free himself of the curse, is by embracing his identity of the Ghost Rider.
En vedette :
Nicolas Cage, Ciarán Hinds, Violante Placido, Johnny Whitworth, Christopher Lambert, Idris Elba