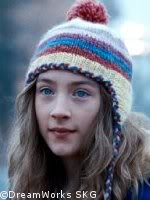 Variety rapporte que Saoirse Ronan (The Lovely Bones) sera en vedette dans le drame How I Live Now, inspiré du roman de Meg Rosoff.
Ronan sera Daisy, une adolescente de 15 ans envoyée de New York jusqu'en Angleterre, chez sa tante et ses cousins qu'elle n'a jamais vus, mais la Seconde Guerre viendra bouleverser les plans.
Jeremy Brock (The Eagle, The Last King of Scotland) et Tony Grisoni (Red Riding) écriront le scénario. Kevin Macdonald (The Eagle, State of Play, The Last King in Scotland) réalisera le projet.
Saoirse Ronan est une des jeunes vedettes montantes à Hollywood. Cette année, nous avons pu la voir dans Hanna, et elle sera bientôt à l'affiche dans Violet and Daisy.
L'actrice tourne maintenant Byzantium avec Gemma Arterton, et enchainera ensuite avec The Host, l'adaptation cinématographique du roman de Stephenie Meyer (Twilight).
- BUM interactif