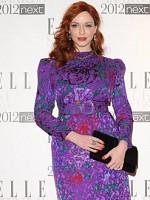 Les actrices Christina Hendricks et Jenny McCarthy sont en tête de liste pour incarner la défunte playmate Anna Nicole Smith dans un film biographique.
Selon le Sunday Express, les producteurs aiment les deux actrices, mais Hendricks aurait une ressemblance frappante avec Smith en portant une perruque blond platine.
Le film racontera son ascension vers la gloire, puis sa descente dans l'enfer de l'alcool et de la drogue jusqu'à sa surdose en 2007, à l'âge de 39 ans, six mois après la surdose de son garçon de 20 ans.
L'acteur de 72 ans James Cromwell (The Artist) serait quant à lui pressenti pour interpréter le sugar daddy de Smith, le milliardaire J. Howard Marshall.
Mis à part la série Mad Men, Hendricks tournera sous peu le drame Seconds of Pleasure avec Brendan Fraser et Julia Stiles.
Quant à Jenny McCarthy, son dernier projet était la série Two and a Half Men.
- BUM interactif