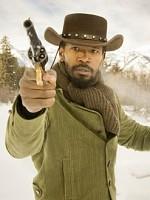 Les nominations pour les prochains MTV Movie Awards viennent d'être dévoilées. Si on retrouve des catégories classiques comme meilleur film ou meilleurs acteurs, les MTV se distinguent par le fait qu'ils ont aussi des catégories plus loufoques. Par exemple, le meilleur baiser ou le meilleur vilain.
Cette année, Django Unchained et Ted récoltent chacun sept nominations, notamment dans la catégorie du meilleur film. Ils feront face à Silver Linings Playbook, The Avengers et The Dark Knight Rises.
Le film Argo, récompensé de l'Oscar du meilleur film, ne récolte qu'une seule possibilité de prix, pour Ben Affleck en tant que meilleur acteur. Il aura de la compétition avec Bradley Cooper pour Silver Linings Playbook, Daniel Day-Lewis pour Lincoln, Jamie Foxx pour Django Unchained et Channing Tatum pour Magic Mike.
Du côté des femmes, Anne Hathaway est nommée pour la meilleure actrice dans Les Misérables aux côtés de Mila Kunis pour Ted, Jennifer Lawrence pour Silver Linings Playbook, Emma Watson pour The Perks of Being a Wallflower et Rebel Wilson pour Pitch Perfect.
Les MTV Movie Awards seront animés par Rebel Wilson et auront lieu le 14 avril prochain.
Voici donc quelques nominations dans les autres catégories :
Révélation de l'année :
Ezra Miller, The Perks of Being a Wallflower
Eddie Redmayne, Les Misérables
Suraj Sharma, Life of Pi
Quvenzhané Wallis, Beasts of the Southern Wild
Rebel Wilson, Pitch Perfect
La performance la plus effrayante :
Jessica Chastain, Zero Dark Thirty
Alexandra Daddario, Texas Chainsaw 3D
Martin Freeman, The Hobbit: An Unexpected Journey
Jennifer Lawrence, House at the End of the Street
Suraj Sharma, Life of Pi
Meilleure performance torse nu :
Christian Bale, The Dark Knight Rises
Daniel Craig, Skyfall
Taylor Lautner, The Twilight Saga: Breaking Dawn - Part II
Seth MacFarlane en Ted, Ted
Channing Tatum, Magic Mike
Meilleur baiser :
Kerry Washington et Jamie Foxx, Django Unchained
Kara Hayward et Jared Gilman, Moonrise Kingdom
Jennifer Lawrence et Bradley Cooper, Silver Linings Playbook
Mila Kunis et Mark Wahlberg, Ted
Emma Watson et Logan Lerman, The Perks of Being a Wallflower
Meilleur méchant :
Javier Bardem, Skyfall
Leonardo DiCaprio, Django Unchained
Marion Cotillard, The Dark Knight Rises
Tom Hardy, The Dark Knight Rises
Tom Hiddleston, The Avengers
- BUM interactif