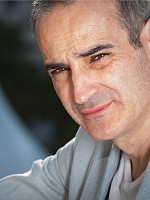 Accompagné de Gilles Jacob, Thierry Frémaux, délégué général de la manifestation, a égrené le programme officiel du 67e Festival du Cannes qui s'ouvrira le 14 mai avec la projection de Grace de Monaco d'Olivier Dahan.
49 films venus de 28 pays composeront le programme officiel. La Compétition se composera, elle, de 18 longs métrages à découvrir ci-dessous :
Sils Maria d'Olivier Assayas
Saint-Laurent de Bertrand Bonello
Sommeil d'hiver de Nuri Bilge Ceylan 
Maps to the Stars de David Cronenberg
Deux jours et une nuit des frères Dardenne 
Mommy de Xavier Dolan
Captives d'Atom Egoyan
Adieu au langage de Jean-Luc Godard
The Search de Michel Hazanavicius
The Homesman de Tommy Lee Jones
Fututsume No Mado (Deux fenêtres) de Naomi Kawase
Mr Turner de Mike Leigh
Jimmy's Hall de Ken Loach
Foxcatcher de Benneth Miller
Le Meraviglie (La Merveille) d'Alice Rohrwacher
Timbuktu d'Abderrahmae Sissako
Relatos Salvares (Wild Tales) de Damian Szifron
Leviathan d' Andreï Zviaguintsev
Dix-neuf longs métrages composeront la sélection Un Certain Regard, spécialisée dans la recherche de nouvelles écritures cinématographiques, a annoncé Frémaux.
L'aspect people d'Un Certain Regard sera assuré par la présence de Ryan Gosling qui viendra présenter son premier film, Lost River (ex-How to Catch a Monster) mené par Christina Hendricks et Saoirse Ronan. La romance en deux parties Eleanor Rigby de Ned Benson fera venir Jessica Chastain et James McAvoy au Palais des Festivals.
Les cinéastes français Mathieu Amalric et Pascale Ferran éviteront le faste de la Compétition officielle pour soutenir La Chambre bleue et Bird People, deux longs métrages attendus depuis plusieurs mois. Autre événement de marque : la venue d'Asia Argento pour dévoiler une mise en scène intitulée Incompresa.
Découvrir la liste de la sélection Un Certain Regard :
Party Girl de Marie Amachoukeli, Claire Burger, Samuel Theis
Amour fou de Jessica Hausner
Bird People de Pascale Ferran
La Chambre bleue de Mathieu Amalric
Charlie's Country (Le Pays de Charlie) de Rolf de Heer
Dohee-Ya (A Girl at My Door) de July Jung
Eleanor Rigby de Ned Benson
Fantasia de Wang Chao
Harchech Mi Headro (Loin de son absence) de Keren Yedeya
Hermosa Juventud (La Belle Jeunesse) de Jaime Rosales
Incompresa (L'Incomprise) d'Asia Argento
Jauja de Lisandro Alonso
Lost River de Ryan Gosling
Run de Philippe Lacôte
The Salt of the Earth (Le Sel de la terre) de Wim Wenders et Juliano Ribeiro Salgado
Snow in Paradise d'Andrew Hulme
Titli de Kanu Behl
Turistes (Force majeure) de Ruben Östlund 
Xenia de Panos Koutras
- BIG/AFP/RELAXNEWS