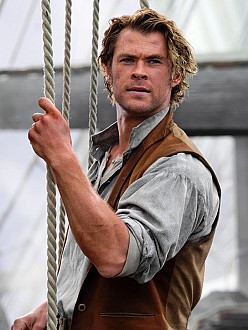 Chris Hemsworth prend la mer dans l'ultime bande-annonce du plus récent film de Ron Howard, In The Heart of the Sea.
Le film relate l'histoire d'un équipage aux prises avec un véritable monstre marin.
In the Heart of the Sea prend donc des allures d'un Jaws moderne à la puissance dix, et d'un film d'époque ravissant et spectaculaire.
Ron Howard semble mettre à profit toute l'étendue de son talent, et ne semble pas rater son adaptation de Moby Dick, dont cette histoire origine s'inspire. Howard retrouve également Hemsworth, qu'il avait dirigé dans Rush.
Ben Whishaw, Benjamin Walker, Michelle Fairley, Charlotte Riley, Jordi Molla, Brendan Gleeson, Tom Holland, Sam Keeley et Cillian Murphy sont également de la distribution du film.
In the Heart of the Sea arrive en salles le 11 décembre prochain.
Découvrez l'ultime bande-annonce pour In the Heart of the Sea, de Ron Howard.
Crédit photo : Cott Productions, Enelmar Productions, A.I.E., Imagine Entertainment